Behind the Red Veil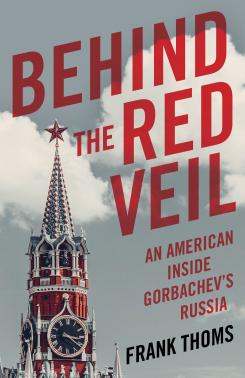 An American inside Gorbachev's Russia
Published by SparkPress 2020
In an AFS International Newsletter (the agency that selected me for two US–Soviet teacher exchanges): "Frank, you see, is a remarkably determined person with a very clear sense of who he is and what he wants . . . He listens with the same intensity as he talks and responds easily to any nuance in a question or comment. Saying "No" to Frank when he is determined to reach a goal is like saying 'No' to a force of nature."
By my second teacher exchange, I had become obsessed with all things Russian. In that same newsletter, I stated, "My experience is a piece of the truth of what the Soviet Union is really like. Like a fragment of a hologram [that portrays the whole]. And if I am clear about what I've seen, and very careful how I tell people about it, then maybe we will be able to see the whole picture." That's why I chose to write this book.
My relationships with Russians became unwritten contracts based on trust. The more I came to know them the more I fell in love with them, even those with whom I had a falling-out. I have taken responsibility to write compassionately, because they opened their hearts and minds countless times in countless circumstances. And they opened mine.
Hearing from these Russians, as readers you will gain insight into Russian minds and hearts. You will come away knowing these people as warm, thoughtful, probing, and wise beyond their experiences. You will gain a perspective of why they are participating in massive demonstrations in support of Alexander Navalny's opposition to Vladimir Putin.
$16.95 USD | 978-1-68463-055-4 | September 15, 2020