Behind the Red Veil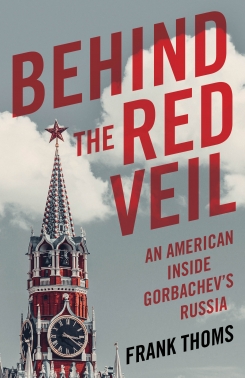 An American inside Gorbachev's Russia
Published by SparkPress 2020
From a US reporter in Leningrad:
"After school, Thoms will walk to his hotel room on the Nevsky Prospekt with a small tape recorder pressed against his cheek. He refuses to forget a smile, a tear, or an important confrontation with Soviet life. He gathers impressions of the Soviet Union like a real-life Holden Caulfield, the consummate social satirist. Nothing seems to escape his discerning eye. By watching and interacting, Thoms believes he is helping civilization from going over the cliff—a teacher in the rye."
From the editor of the AFS International Newsletter, the agency that directed the US–Soviet teacher exchanges :
"Frank, you see, is a remarkably determined person with a very clear sense of who he is and what he wants. He listens with the same intensity as he talks and responds easily to any nuance in a question or comment. Saying 'No' to Frank when he is determined to reach a goal is like saying 'No' to a force of nature."
My time with Russians became a fragment of a hologram; a fragment that depicts the whole. The same was true in all my teaching in schools and as twelve years as a teacher of teachers. Each experience reflected a larger whole of all my experieces with students. I continually searched for what worked to engage them, to activate their thinking. Whether in my thirty years in middle school in Hanover NH, or my year in Oxfordshire, England, and eight at Bancroft School in Worcester MA, I engaged with my students in frequent conversations to find meaning and understanding in whatever we were studying. Here in 'A Teaching Life: In the US, the USSR, and England,' I intend to pursue the same objective with readers.
$16.95 USD | 978-1-68463-055-4 | September 15, 2020