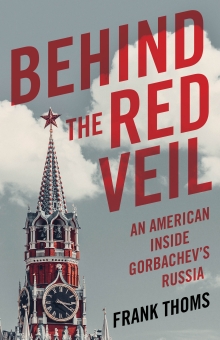 In October 1985, Frank Thoms first ventured into the Gorbachev's Soviet Union. By the time Gorbachev resigned as general secretary, he taught in four schools in three cities, Leningrad, Moscow, and Alma-Ata, Kazakhstan. In 1994, he returned, this time to the new Russia to lead a seminar in Yakaterinberg, Siberia, for teachers coming to America.
He discovered, in his passion to find common ground with Russians, that he did not judge them but learned from them, not to bring America to them but to be an American with them. He taught using Soviet pedagogy but for the most part, his own. He befreinded hundreds of students and teachers.

His book is lively, provoactive, and personal. The Red Veil is his metphor for how the Communist Party projected itself to its own people, to foriegn visitors, and to the world at large. The writing is crisp, to the point, and honest. The book is an extension of his classroom philosophy, which was centered on being alongside his students, not as a deliverer of information but as a partner in learning with them.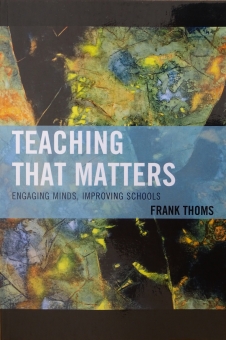 Steve Jobs said, "The minute you understand that you can poke life and …something will pop out the other side, that you can change it, you can mold it." Thoms invites teachers to do just that. Take their classrooms and poke the lives of their students and invite them to seize each day in earnest.
By meeting innovative practitioners who engage students, this intriguing book will help readers shift from traditional classroom practices into exciting alternatives.
"Teaching That Matters
is a delightful concoction of philosophical and psychological reflections and provocations on the art of teaching. Creative teachers will find Frank Thoms's book highly engaging and his practical teaching recommendations enormously useful."
Paul Reville, Harvard Graduate School of Education,
former secretary of education,
Commonwealth of Massachusetts

"I feel your energy and commitment and can also hear your voice, literally, as I read. Your book feels like a personal conversation rather than a broadcast. Perhaps that is why you were was such a good teacher!"
Ron Stegall, international education advisor

"The chapters are so intriguing. I just want to curl up with my favorite plush blanket and spend the day reading what Frank Thoms had written."
Pamela Penna, educational comnsultant and teacher coach