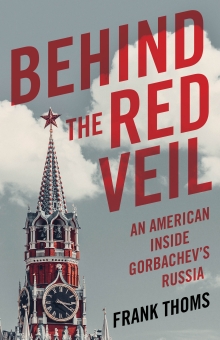 Frank Thoms was a teacher for fifty years, nearly forty in the classroom. He taught middle school in the US; primary school in England; and English to Soviets from seven to seventeen in the USSR. For twelve years, he taught teachers throughout New England.
Since 2010 he has published five books, four for teachers. His fifth is about his teaching in the USSR, Behind the Red Veil: An American inside Gorbachev's Russia (SparkPress 2020).
He discovered, in his passion to find common ground with Russians, that he did not judge them but learned from them, not to bring America to them but to be an American with them. It was an extension of his classroom philosophy, which was centered on being with his students, not as a deliverer of information but as a partner in learning with them. He continues to implement his philosophy in his writing.

Currently, he is writing essays for teachers and about his time in Russia. He is also has two manuscripts in process for Rowman & Littlefield. Both invoke unique approaches from a 20th century teacher's desire to reach 21st century teachers who now face insurmountable challenges. Yes, unique!
Behind the Red Veil
"Frank Thoms's Behind the Red Veil is not only a souvenir from the USSR but to a great extent an insight into what Russian schools feel deep inside. When Frank appeared at my school, he did not feel, look, or smell like a teacher. His teaching and learning was the Klondike of new experience, both for him and me."
— Mikhail Baushev, Former teacher at School Nº185
"An interesting and insightful perspective of an American educator's experience within the Soviet education system. Thoms manages to write his story with warmth and wisdom. A delightful read."
— Pavel Kozhevnikov, Lecturer of Russian Language and Cultures, University of Colorado, Colorado Springs