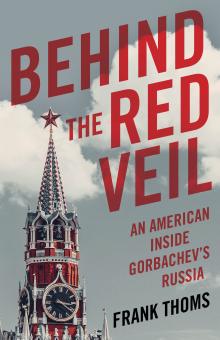 At the beginning of the Trump/Russia brouhaha in 2016, I resurrected my manuscript from thirty years ago. It was time to rewrite my memoir befriending Russians during Mikhail Gorbachev's time when the people were speaking out for what they wanted from their government. Now the brouhaha has ended; the Trump presidency and his genuflecting to Putin is over.
The rearrest of Alexander Navalny in January 2021 has reawakened Russia, not only in massive demonstrations in Moscow but also all across Russia's eleven time zones. In supporting Navalny, Russians are reclaiming their voices, which I had been privileged to listen to thirty years ago. At that time, they were railing against the harshness of Communist rule. Now Putin's corruptive practices, vilified in Navalny's scathing video seen by millions, has stirred the people to demonstrate. And the Biden administration has ramped up pressure on Putin.
My first venture to the Soviet Union occurred in October 1985, Mikhail Gorbachev's first year as general secretary of the Communist Party of the Soviet Union. In the following six trips, I taught English in four schools in Leningrad, Moscow, and Alma-Ata, Kazakhstan. In 1994, three years after the fall of Communism, I led a seminar in Yekaterinburg, Siberia, for teachers who would be coming to the US. I have been fortunate to have spent nearly a year of my life among Russians.

Readers will come away having heard Russian voices inside Communist controlled Soviet Union. They provide a perspective on the outcries of the Russian people today in support of Alexander Navalny, who Puitin has arrested and imprisoned. The pent-up voices that spoke out during Mikhail Gorbachev's reign have returned on mass, witness the huge demonstrations all across Russia.
Behind the Red Veil
"Frank Thoms's Behind the Red Veil is not only a souvenir from the USSR but to a great extent an insight into what Russian schools feel deep inside. When Frank appeared at my school, he did not feel, look, or smell like a teacher. His teaching and learning was the Klondike of new experience, both for him and me."
— Mikhail Baushev, Former teacher at School Nº185
"An interesting and insightful perspective of an American educator's experience within the Soviet education system. Thoms manages to write his story with warmth and wisdom. A delightful read."
— Pavel Kozhevnikov, Lecturer of Russian Language and Cultures, University of Colorado, Colorado Springs